Today's speed guns are highly advanced and sophisticated as compared to their predecessors.  Their impressive precision has enabled law enforcement to catch more speeding motorists than ever before.
This has resulted in more motorists paying hefty fines. In addition, many unlucky drivers are losing their licenses each day after falling into the trap of these high-tech speed detection systems.
Without an advanced radar detector, it is difficult for a motorist to escape the precision of modern speed detection devices. Only drivers with advanced radar/laser detectors can drive attentively without needing to pay close attention to the speedometer. If you are looking for a device that will help to enhance your safety on the road, then you should consider a radar/laser detector. This safety equipment allows you to monitor the speed of your vehicle more easily and effectively.
Radar and laser guns are widely used by Australian traffic enforcement for speed detection. A radar gun produces and transmits high frequency signals. These signals are reflected back to the speed gun when there is a vehicle to block them. A radar speed gun measures the properties of the reflected signal and uses the measurements to calculate the speed of the moving vehicle.
A laser gun measures speed by generating light pulses and measuring their properties. The speed of a vehicle is calculated from the measured properties. Since both radar and laser speed guns are commonly used in Australia, it is advisable to have a detector that is capable of detecting both radar and laser signals.
Apart from radar and laser guns, law enforcement units in some parts of Australia are using point-to-point speed detection devices. Unlike laser and radar guns, P2P cameras measure the time that a vehicle takes to move between two points. The camera uses the measured time to determine if the vehicle is exceeding the speed limit or not.
Law enforcement use different tactics and devices to catch unsuspecting speeding motorists. To allow flexibility, speed guns come in different sizes and designs. Some are handheld whereas others are vehicle mounted.
In some locations, law enforcement use mobile speed guns while in other places they employ fixed radar and laser guns.  This flexibility allows law enforcement to catch many speeding motorists. Only motorists with keeping an extremely close eye on their speed or using suitable speed detectors can avoid the traps used by today's traffic police.
Radar's Online offers powerful detectors such as the Escort Redline and the Escort Max 360. The two detectors are designed to allow you to drive more attentively and safely.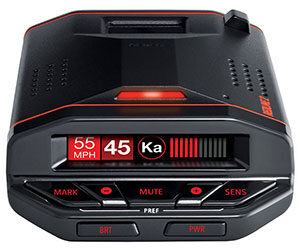 Escort Redline model
Not every detector in the market is capable of detecting the high-tech speed detection systems used by today's traffic police. Some are designed for specific regions and can, therefore, be less effective. This means that it is not advisable to buy a detector from any seller.
If you are planning to purchase a quality detector for your vehicle, then it is advisable to avoid products from grey markets. To start with, grey market products are not tailored for a specific market and they are, therefore, less effective.
Secondly, grey markets are known to accommodate counterfeits and low quality products. Furthermore, sellers of obsolete and discontinued products prefer grey markets. Motorists who buy detectors from grey markets are at high risk of not getting value for their money.
Most likely the grey market detector will not detect the majority of the speeding guns used by law enforcement in Australia and New Zealand.  The motorist having a false sense of security may not be checking their speed which could lead to hefty speeding fines and possible loss of the driver's licence.
Also – for motorists in Australia and New Zealand, it is important to ensure that the detector you are purchasing is designed for radar and laser guns, traps and cameras used locally.
Overseas detector models operate on different frequencies than ones used here.  Again, the motorist believing they have a suitable safety system fitted may be caught out with fines and loss of points/licence.
Whether you are looking for a portable or fixed detector, Radar's Online has a suitable solution for you.
Is it advisable to purchase a portable radar/laser detector?
Yes, unlike in the past, you can now get a powerful and inexpensive portable detector.
Some portable radar/laser detectors are just as powerful as expensive custom installed devices. These portable devices are usually cheaper and easy to install and use. The Escort Redline Pro A and the Escort Passport Max 360 are portable detectors that are tailored for the Australian motorist. If you are looking for an affordable and powerful detector, then you should consider a portable device.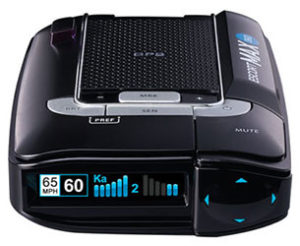 Escort Max 360 radar and laser detector
The Escort Passport Max is capable of detecting signals from both radar and laser guns. Its capability to detect signals in both K and Ka bands enables it to alert you long before the speed gun can catch you. This detector offers three modes: highway, city, and auto sensitivity mode.
The three modes are optimized to enable you to drive more safely in different environments. In addition, the Passport Max has a pre-loaded database of speed detection systems and is capable of multiradar detection. This feature makes this detector an unmatched option for Australian motorists.
For more details about this detector, check the technical specifications of the Escort Passport Max.
If you are looking for a radar/laser detector that is tailored for the Australian motorist, then the Escort Redline is a very capable option. This detector offers impressive sensitivity and long range detection to ensure that you drive safely and more attentively.
Furthermore, this portable detector is designed to deliver the performance of a fixed radar detection system.
Check the specifications of the Escort Redline Pro A to learn more about this powerful detector.