Sale!
NOTE FOR VICTORIAN CUSTOMERS: The Redline EX is experiencing issues detecting the Gatso RT4 speed camera currently used in Victoria. We recommend the Redline 360c, as it is the latest technology and does not suffer from the same issue.
1 in stock
Description


The long range king has a new crown.
The new Redline EX International, extreme performance, undetectable, dual antenna design, now with GPS and loaded with the Escort Defender database.
Dual Antenna Design
Dual antenna design introduces an all new level of radar performance. Tuned specifically for each radar band, this approach enables the longest possible warning on all radar bands.
Undetectable
Exclusive TotalShield™ Technology makes Redline EX totally undetectable by any radar detector detector (RDD).
Complete protection
The Redline EX International can detect not only standard K and Ka bands and laser, but also MultaRadar CD, Strelka and Gatso cameras. There is no speed camera in Australia that the Redline EX cannot detect.
GPS only mode
Radar and laser detection can be disabled with the push of a few buttons to put the Redline EX in to GPS only mode. This only uses the Defender database for speed camera and red light camera warnings. Switch back to normal detection mode just as easy, no need to reload the software via a computer.
Intelligent AutoLearn® Technology
Patented anti-falsing technology uses the power of GPS and the exact frequency to learn and automatically reject unwanted fixed position false alarms.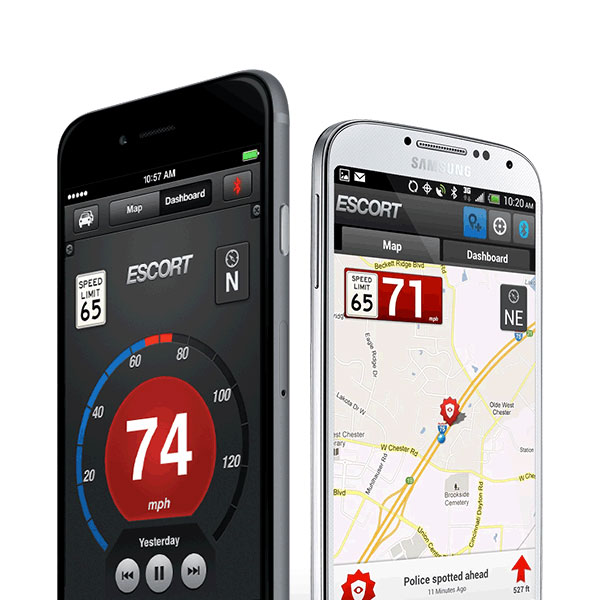 Rich Data plus the Power of Community
Escort Redline EX protects drivers beyond conventional radar and laser threats by pre-loading our Defender Database of thousands of redlight and speed camera locations in Australia and New Zealand. And because Escort Redline EX comes Bluetooth equipped, it connects seamlessly to our award-winning Escort Live speed trap app, providing additional protection against mobile speed cameras and police locations reported by other drivers in the area.
IVT Filter™
Updatable system automatically reduces false alerts from moving In-Vehicle Technology sources such as collision avoidance systems and adaptive cruise control.
The Total Package
Escort Redline EX comes complete with everything you need: a unique SmartCord with built-in alert lamp and mute button, our best quick-release magnetic StickyCup mount and a travel case.
Download Escort Live here:
Disclaimer: These devices are designed as safety warning systems to give the driver advanced warning of speed measuring devices and traffic hazards. Escort and its partners in no way condone speeding or dangerous driving. These devices do not guarantee that you will not be detected and issued an infringement if driving outside the law. Escort and its partners are in no way responsible for the use/misuse of these devices, and as a result, will never offer reimbursement of speeding infringements for any reason.
The use of the radar and laser detection features may be illegal in some states. Check applicable laws before using. Escort and its partners cannot be held liable for the illegal use of radar and laser detection features by an owner in jurisdictions where it is prohibited.
Specifications
OPERATING BANDS
X-band 10.525 GHz ± 25 MHz
K-band 23.950 GHz ± 100 MHz
Ka-band 34.700 GHz ± 1300 MHz
Strelka
MultaRadar CD/CT
Gatso
Laser 904nm, 33 MHz Bandwidth
RADAR RECEIVER / DETECTOR TYPE
Dual Antenna with Dual LNA Receiver
Superheterodyne, Varactor-Tuned VCO
Scanning Frequency Discriminator
Digital Signal Processing (DSP)
LASER DETECTION
Quantum Limited Video Receiver
Multiple Laser Sensor Diodes
GPS RECEIVER
AUTO CALIBRATION CIRCUITRY
MUTE, AUTOMUTE AND SMARTMUTE
DISPLAY TYPE
Graphic Multi-Color OLED
CruiseAlert™
Bar Graph
ExpertMeter™
SpecDisplay™
5 Levels of Brightness with Full Dark Mode
USER PREFERENCES
User Mode: Advanced / Novice
Pilot: Scanning Bar / Full Word
Display Color: Blue/Green/Red/Amber
Speed Display: On / Off
Cruise Alert: 20 – 160 mph
Over Speed: 20 – 160 mph
Meter Mode: Standard/Spec/Expert/Simple
Tones: Standard / Mild
AutoMute: Low / Med / High / Off
AutoLearn: On / Off
Alert Lamp: On / Band / Off
Units: English / Metric
Language: English / Spanish
Voice: On / Off
GPS: On / Off
Auto Power: Off / 1-8 Hours
Bands: Selectable including Strelka/Multaradar/Gatso
Markers: Selectable
Clear Locations
POWER REQUIREMENT
12VDC, Negative Ground
Escort SmartCord® Included
SENSITIVITY CONTROL
Highway, Auto, Auto No X and Auto Lo K